Laura Geller Sample Sale | New York
If we could sample sale our way through life...
If we do it right, we totally could! I've been going to samples sales for such a long time and as a fashion and beauty addict, it has been so great to my pockets. I am subscribed to a few news letters and I love to check out Sample Sally, Mizhattan, and Racked NY daily. I'm always on the hunt for a sample sale!
However, this sample sale totally slipped through my fingers and if it wasn't for my friend Michelle Ana putting it on her snapchat, I totally would've missed it! BTW, check out her Deva Curl post here, she's doing a giveaway that I'm about to enter myself! Lol
This past week I went to the Laura Geller, Nest Fragrances and Deva Curl Sample Sale in New York City. Going to sample sales is honestly one of my FAVORITE things to do in the city. I love the idea of snagging a great find at such a great price! Check out below for everything I purchased and how much I paid for it all! (You won't believe it!) I totally got so excited for this Sample Sale that I didn't even snapchat, ig, NOTHING! All I wanted was my goodies. It wasn't until after I left that I realized I totally should've taken photos and videos!
You gotta pay the price for a good deal! And normally that price is an hr long wait on a line. What we do for makeup.. I got no shame tho! (Photo from IG @boyzruleourworld)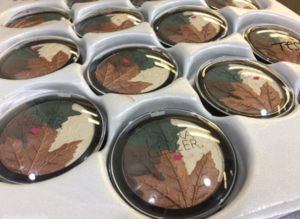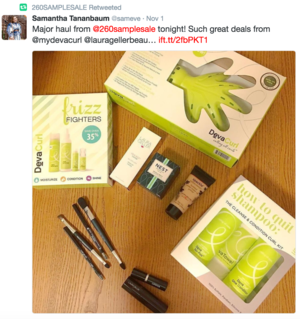 I went to the sale on Wednesday, November 2nd, and by Friday November 4th, prices were EVEN lower! It was seriously sooooo insane. I tried going back on after work on Thursday night, but I got there around 6:30 and average waiting time was about 45 minutes! I was way too tired to do it again. But now I'm totally bummed I didn't just stick it out and do the line again. HELLO, this is perfect for Christmas shopping! Ugh, lesson learned. Next time, I'm just buying the whole shop.
They had Laura Geller brushes and I believed I grabbed one of each. They mostly had eye shadows and blush brushes. for $2 each!!!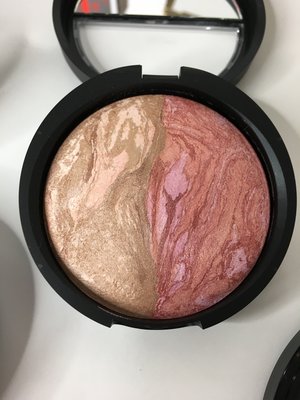 Blushes, Eye Palettes, and Powder Foundations were $10 each! You can't even get a deal this good at Duane Reade, JUST SAYING...
Eyeshadows were only $5 each too! I purchased this mainly because it reminded me of Gilded Honey and I plan to use this eye shadow as a dupe for that, lol.
At the sample sale they also had UH-MAZINGGGGG gift sets for only $15! I purchased one just to have in case I want to do a giveaway or need a gift for Christmas. Now I'm so bummed I didn't purchase more!! UGH, I need another sample sale to happen soon!
If you're big on fragrances and candles like I am, then you KNOWWW how excited I was for some NEST Fragrances! I went crazy at the Laura Geller section that I only breezed through the candles. I purchased a wooden candle for Rady (trying to get him to like candles as much as I do, don't really know if it's working or not) and I purchased this room fragrance. The Birchwood Pine fragrance smells exactly like Christmas!! It's such a great smell and puts me in such a jolly mood. I love it!
I hope you guys enjoyed this post! Do you guys visit sample sales too? If you do, what are some of your favorite finds? I'd love to know!