Skin Care for Your Hectic Schedule!
HI Guys!
I can't believe how insane this past month has been. Between photo shoots, FAME show, my full-time job, and blogging, life has been crazy! I'm so thankful for constantly staying busy, which let's be honest, can either be a good thing or a bad thing. Depending on how you look at it.. lol But for now, I'm looking at it as a good thing.
AVEENO Positively Radiant Overnight Hydrating Facial $16.99
Having such a hectic schedule can really take a toll on my skin. And as much water as I drink a day (10 glasses!) my skin still has its moments of feeling extra dry.
I'm totally blaming my work schedule for that, but thankfully I have found a few products that have helped my skin tremendously! First product I'm sharing is the Aveeno Overnight Facial cream. This night cream moisturizer smells amazing and has a very relaxing aura to it. I love wearing it before bed each night
Every morning when I wake up, I love to grab my Yogurt Body Wash into the shower and lather my skin with it. It's so relaxing and a zen way to wake my body up; especially right before the work day.
Just how I moisturize my face before applying makeup, I love to moisturize my arms and legs with the Aveeno Body Yogurt. My skin soaks up the product and stays hydrated. The best part is that it's not sticky!
AVEENO Positively Radiant Overnight Hydrating Facial $16.99
Daily Moisturizing Yogurt Body Wash $6.49
Daily Moisturizing Body Yogurt $7.99
The Illuminage Skin Rejuvenating Pillow $60.00 and the Illuminage Skin Rejuvenating Socks $35.00 are interesting items. I'm currently sleeping with the pillow every night and I LOVEEEEEEE how soft it feels on my face. I sleep legit feeling like a queen. I used the socks on the 14 hour shoot day, and if you guys know how long and painful these shoots can be, I'm happy to report my feet weren't sore by the end of the day! And yes, I'm totally crediting these socks for that. Side note that it also keeps my feet dry. #YASSS for dry feet!
Illuminage Skin Rejuvenating Pillow $60.00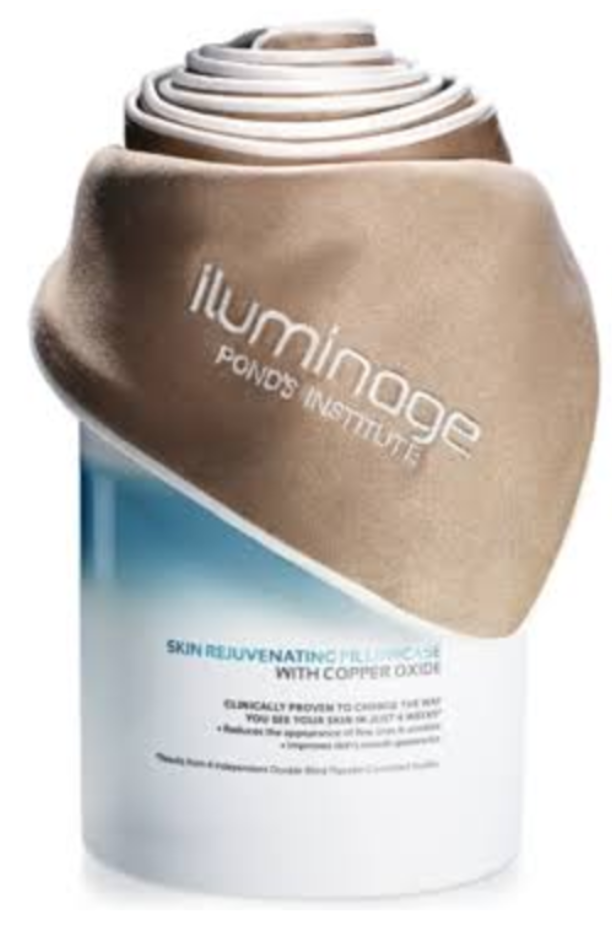 If you guys checked out my Neutrogena post a few months ago, you know how much I love using their Acne Cleansing line. If you guys love their items as much as I do, then you know how amazing their Hydro Boost Water Gel is! I use this to prep my skin before I apply may makeup. This product is also especially amazing during the winter months, as it really helps keep my skin hydrated. Its cooling effect instantly refreshes your face. My skin literally soaks the product right up, I love using this. This is my 8th bottle already! It's cray cray lol
Now this last set of products I'm sharing is a total recommendation from my mom. My mom has been OBSESSED with the Revitalift line for as long as I can remember. Today she convinced me to try out their Serum and Moisturizer before I applied makeup. You know I love my Hydro Boost, but I decided to give it a shot. Below are my very first impressions.
1. Smells great and smoothly glides on your face and neck
2. Smells good! That's always a plus
3. Although I used this for today's makeup routine, I'm thinking it might better to use before bed. While my skin was totally smooth and hydrated. my makeup didn't last all day (put in a 10 hr workday today). This was the only switch I made in my routine, so I'm thinking it had something to do with that. I plan to keep on trying it for the rest of the week to see how my skin holds up, but so far, I'm giving it a 7 out of 10. If it was up to my mom, she'd give it a 10 out of 10, lol. Make sure you follow my insta-stories to see final results!!
Triple Power ™ Intensive Skin Revitalizer Serum + Moisturizer $24.99